Voted The Best Law Office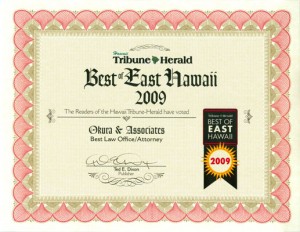 With attorneys in Honolulu and on the Big Island, Okura & Associates serves clients on Oahu, Kauai, Maui, Molokai and the Big Island. We were voted the Best Law Office on the Island of Hawaii in six separate years in the Readers' Choice poll of the island's largest daily newspaper. Specializing in Estate Planning, Elder Law and Probate, we are gaining a statewide reputation for our expertise in protecting assets from nursing home costs.
Mission Statement
Both our attorneys and our support staff are committed to living up to our mission statement:
"We provide the highest quality of legal services, promptly, in aesthetically attractive form, in a friendly, professional manner, for a reasonable fee. Our clients feel important, cared for, and well informed. We work as a closely knit team. We enjoy serving our clients. We help our clients have peace of mind."
Big-city expertise and small-town personal service and caring – these are what we offer at Okura & Associates.